If you're a guy and a movie buff, you probably have admired certain on-screen characters and thought to yourself how cool it would be to be them.  Well, we've comprised a list of recent Male Movie Roles guys would most like to be.  Can you relate?  
10) Jeff Bridges- The Big Lebowski
Who wouldn't want to walk around care-free in a bathrobe and Candies, puffing away and drinking White Russians with non-dairy powdered creamer all afternoon.  Sure his place gets ransacked a few times, his rug gets peed on and his car gets soiled, but he also stumbles onto Jackie Treehorn's sex party and lives rent free.  He adheres to a minimalist existence where his only real concern is how his bowling team will fare in the next round of the playoffs.  The Dude abides.
9) Mickey Rourke – 9 ½ Weeks
Rourke in this movie may be one of the coolest cats around.  We're never really sure what he does for a living or how he makes his fortune, but we know it's shady business.  An early Rourke still looks presentable before his bizarre facial surgery made him unrecognizable.  He dresses to the nines and gets Kim Basinger to basically do whatever he pleases with food products, which sounds pretty good to me.  She can leave her hat on.
8) Matt Damon – Good Will Hunting
Sure, he had a rough upbringing and has some serious deep-rooted psychological issues but he's the smartest person anyone has ever known.  He can read a book on any subject and immediately master the concept.  Who wouldn't want that?  He's smarter than the world's most brilliant mathematics professor and continuously makes people look foolish without even trying.  He also ends up bedding Minnie Driver.  Our boy is wicked smart.  How do you like them apples?
7) Matthew Broderick – Ferris Bueller's Day Off
An 80's classic, Bueller is the high school kid everyone wants to be.  The sportos, motorheads, geeks, bloods, wastoids, dweebies, they all think he's a righteous dude.  Ferris finagles his way out of class, crashes a parade, gets the city of Chicago to take up a collection on behalf of his feigned illness all the while embarrassing his high school principal.  Bueller gets away with anything he wants and reminds us that life is short.  If we don't stop to look around every once in a while, we might miss it.
6) Brad Pitt – Fight Club
Tyler Durden is a figment of Ed Norton's imagination.  He is everything he wants to be but cannot.  He looks like we want to look and is free in all the ways we're not.  He single-handedly – unless you count his split personality – develops a nationwide army of men who dismiss the superficialities we've come to value and reminds us of our primitive, survival instincts.  Yes, he dies in the end but not after doing some serious damage and inspiring a new way of thinking among his dedicated followers.  The first rule of Fight Club is you do not talk about Fight Club.
5) Eddie Murphy – Coming To America
When I say he's got his own money, I mean he's got his own money.  Not only is Murphy, aka Akeem, a prince and the sole heir to the throne of Zamunda, he has his own staff of buxom, Nubian bathers as well as servants who toss rose petals at his feet wherever he walks.  Also, Arsenio Hall is his own personal manservant although, on second thought, that might be a drawback.
4) Robert Downey Jr – Iron Man
Tony Stark is a weapons designer and a multi-millionaire.  He sleeps with anyone he wants to and has only the finest toys, including  a pretty snazzy outfit that shoots lasers and flies.  Think of what he saves on air fare.  The beautiful Gwyneth Paltrow is also his personal assistant.  Stark didn't have to come from another planet, become a mutant or get bit by a spider to gain his super powers.  He's a self-made hero.  
3) Mark Wahlberg – Boogie Nights
Okay, for anyone who's seen the final scene of this movie, why we'd want to be Dirk Diggler is self-explanatory.  After being discovered for his 'talent' in a California night club, Wahlberg rises to stardom in the 1970s.  Part of his job is to repeatedly have sex with Heather Graham, aka Rollergirl.  He drives a fat, red Corvette, has his own dojo and Chest Rockwell is his best buddy.  Sure, he gets hooked on cocaine towards the end and loses everything he has, but he's still blessed with a characteristic that makes most women do a double take.
2) Keanu Reeves – The Matrix
Computer geek turned chosen one, Neo awakes from his battery slumber and becomes the most awesome force agents have ever seen.  He's good with heavy artillery and can learn any martial art they can plug into him.  Neo wastes every one in his path as he masters the matrix on his way to saving the human race.  He also gets the leather-clad Trinity to fall in love with him in the end, which is not a bad gig if you can get it.  Who says computer nerds can't get the girl in the end.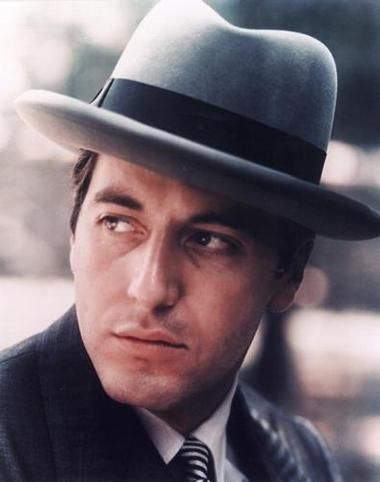 1) Al Pacino – The Godfather
There can only be one number one movie role most guys would most aspire to be.  Sure Michael Corleone gets his jaw broken by the local chief of police, but he exacts his revenge by putting a slug in his throat and then another in his forehead in a crowded Italian restaurant.  This war hero turned mob boss ends up as the Godfather by the end of the film and in turn, controls every drug, booze, prostitution and gambling ring in New York City.  He can have you offed at the drop of a hat.  This one time, I'll let you ask me about my business.
Honorable mention:  George Clooney, Ocean's Eleven; Ron Livingston, Office Space; John Cusack, Grosse Pointe Blank; Richard Gere, American Gigolo; Sean Connery, James Bond series; Harrison Ford, Star Wars; Clint Eastwood, Unforgiven; Mel Gibson, What Women Want; Vince Vaughn, Swingers