A friend texted me the other night.  I was playing poker at my local house game while tipping back a few.  His text read simply  "Cutler a Buc!!!"
I read the text with mixed emotions.  The Jay Cutler sweepstakes were still in full effect at that point.  At first, a wave of excitement rushed over me.  I started high-fiving my friends at the table.  Our beloved Buccaneers had landed the best off-season quarterback available, outbidding all other suitors, aka, Washington, Detroit, Carolina, Chicago and the like. 
The move made perfect sense, or at least it seemed consistent with the wheeling and dealing the franchise had engaged in since Jon Gruden's departure.  This new Buccaneer regime, led by newly appointed GM Mark Dominik and head coach Raheem Morris, has wasted no time putting their imprints on the organization. Cutler appeared to be one more piece to the puzzle.  A big piece.
Minutes later, I received another text from the same friend that read "April Fools!"  As it turned out, the Chicago Bears now have the Vanderbilt product behind center and the Buccaneers starting quarterback position remains a question mark.
Even though I was initially excited about Tampa Bay landing Cutler, one of the best young quarterbacks in the game, there was still a touch of skepticism in the move.  Some have proclaimed him the next John Elway, others the next Jeff George.  Cutler showed his age and immaturity in his handling of the Denver situation once he found out he was the discussion of trade talks.  Trade me, don't trade me, feelings hurt.  That's not to say Broncos' brass wasn't also to blame.  But did this new look Buccaneers team really want this man as the face of their franchise, particularly when he came with such a heavy price tag?  The Bucs sold their soul to land former head coach, Jon Gruden, sending away first-round draft picks and cash.  Denver was asking a similar price.  The last time the Bucs landed a former Bronco quarterback, he didn't even play a down.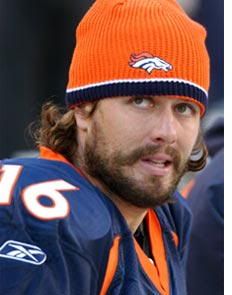 As it stands right now, Luke McCown is penciled in ever so lightly as the Bucs starting quarterback, with Brian Griese and Josh Johnson likely giving him at least a run for his money.  Yet none of those quarterbacks strike fear in the heart of opposing defensive coordinators, which is why the Bucs are heavily rumored to be looking for a QB in the first round of the draft, namely either Mark Sanchez from USC if he's still around when the Bucs select at 19, or Josh Freeman out of Kansas State, who they're apparently very high on.  Raheem Morris coached the 6'6", 250 pounder at Kansas State in 2006 and loved him.  Freeman could be a long-term solution to the quarterback inconsistencies that plagued the Gruden era, i.e. nine different starters in seven years.  By the 19th pick,  Freeman should still be available.  Another option is Florida's multi-purpose threat, Percy Harvin, if he's still on the board, but his workouts indicate he might be gone by then.  Or the Bucs could choose to shore up their defensive line where they certainly need the help.  Either way, the Bucs do not have a second round pick so they better make their first pick count.
The Bucs have had an interesting off-season to be sure.  The new regime wasted no time this spring, making significant moves to overhaul the franchise.   Monte Kiffin is now in Knoxville, Tennessee and Raheem Morris went from replacement defensive coordinator to head coach in a matter of weeks.  The organization is doing their best to ensure its fan base is paying attention.  Can you say facelift?  When they take the field in 2009, your Tampa Bay Bucs will be as unrecognizable as Meg Ryan.
Gone are the traditional mainstays: Derrick Brooks, Cato June, Joey Galloway, Ike Hilliard, Warrick Dunn, Chris Simms, Jeff Garcia and oh yeah… Jon Gruden.  In with the new, and make no mistake about it.  This is Dominik's and Morris' team.  It is their way or the causeway.
The Bucs have been as active as any NFL team this spring, including making serious pushes for not only Cutler, but also DT Albert Haynesworth, who was eventually signed by the Washington Redskins for $100 million.  When's the last time you remember the Bucs paying nine figures for something other than a new stadium?  Yet they were in the running which is more than can be said about their recent efforts.
The Bucs made huge splashes in trading for Cleveland's Kellen Winslow, Jr., re-signing WRs Antonio Bryant and Michael Clayton, and adding former Giants RB Derrick Ward to help the consistently ailing Carnell Williams.  Expect a more effective running attack in 2009 as this Bucs team will definitely run the football.
On defense, which has been the Bucs' identity since the Dungy days, the Tampa 2 scheme is likely a thing of the past.  Defensive Coordinator Jim Bates is even trying players out at new positions.  Safety Jermaine Phillips is learning to play linebacker.  Defensive end Gaines Adams may switch sides of the line.  There will be growing pains to be sure.  At least Ronde is still around. 
The release of #55 was not a popular move.  The city was nearly in mourning.  One needed only look at a dejected Coach Morris at the press conference when they announced Brooks' release, his usual pearly whites nowhere to be seen.  If Coach Morris wasn't already familiar that the NFL can be a cold, harsh business, he got a crash course his first month in office.  With Brooks gone, leadership on and off the field will now have to come from somewhere else and that remains a question mark.
That being said, the majority of Tampa's off-season moves have been for the positive.  Fans have to be encouraged that ownership and management are determined to put a winning product on the field.  Morris' energy is contagious.  His spring practices have been refreshing, but no walk in the park.  He brings a new, upbeat attitude, looking brightly into the future of the franchise.  Hip-hop blares on the practice field in place of the coarse and hoarse yelling of years past.  And the coaching staff had to be encouraged by the fact that nearly every player under contract showed up for involuntary workouts.
Fans should be encouraged too.  Yes, we'll be seeing some unfamiliar faces in the red and pewter this year, but as they say… winning cures all ills and that is just what this team intends to do.