After an 82-game season, the NBA playoffs are finally upon us.  The first to win sixteen games is crowned champion.  All others go home with dreams unrealized. 
Not since Craig Ehlo slumped to the floor after a certain number 23 drained a jumper over his outstretched hands has Cleveland had such a legitimate shot to win an NBA title.  The best news for Cavs fans is that the phenom wearing 23 now dons Cleveland red.  And he has a very determined look on his face. 
The Cavaliers, led by LeBron James, are poised to bring Cleveland its first major sports championship in over 45 years.  Not since the Browns won an NFL title has this city tasted glory.  Cleveland is about to erupt and not just because Drew Carey is no longer in prime time.
The Cavs have just completed its best regular season in franchise history, but none of that will matter unless confetti falls from the rafters in June.  By sealing up the best regular season record, the Cavs are assured home court advantage throughout the playoffs, which is significant since they lost only two home games all season long. The Cavaliers are no longer an afterthought, they are the favorite.  The question remains…. can they finish?  Championship rings are for closers only.
Only two seasons ago, the Cavs reached the Finals, going 50-32, but were readily dispatched by a far superior San Antonio Spurs in a swift, four games.  This is a different Cavaliers team, however.  The 2007 team seemed happy to be there.  This current team is on a mission.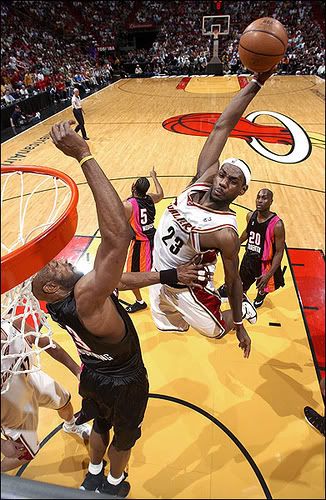 This is also a different LeBron James.  This year, he averaged a Big O-like 28 points, 7.5 rebounds and 7 assists.  He is streamlined.  He averaged a career low in turnovers per game.  He is a significantly better defender than in years past, particularly from the weak side.  He's been a highlight reel waiting to happen and we get the sense there is much more to come.  He had career highs in free throw percentage (78%) and field goal percentage (49%).  This is a more improved and efficient LeBron James, which is a very scary thing.  People don't defend him.  They get out of his way.
While LeBron is still the man, Cleveland no longer relies on him alone to score.  The offense is more balanced.  Mo Williams pours in 18 a game, Big Z 13, Delonte 12, Varejao 9, Gibson 8, Szczerbiak and Joe Smith 7 each.  Even with an injured Ben Wallace, they are still the best defensive team in the league, holding teams to under 92 points per game.  Cleveland also led the league in margin of victory at nearly 9 points per game.  
Las Vegas lists the Cavs as overwhelming favorites to represent the Eastern Conference in the NBA Finals.  They are second only to Kobe Bryant's Los Angeles Lakers to win it all.  A Kobe-LeBron Finals is must see TV and secretly what Commissioner David Stern must be hoping for.  That series would likely warrant the highest NBA Finals ratings since Michael Jordan retired.  While it might not settle the debate as to which player, Kobe or LeBron, is better, it could be a Finals for the ages with the game's two best warriors going head to head.
This is not to say that a Cavaliers Finals appearance is etched in stone.  They face an experienced, yet Allen Iverson-less Pistons team in the first round.  Detroit had a disappointing season under rookie head coach Michael Curry, who was unable to figure out how to get Iverson and Rip Hamilton to coexist.  Assuming a victory over Detroit, Cleveland will play the winner of the Hawks-Heat series.  Although Cleveland is still a better TEAM than either of those two, MVP candidate Dwyane Wade will not go quietly.  Nor will a more mature Hawks team who took the defending champion Boston Celtics to seven games in last year's playoffs.
In the Eastern Conference Finals, the Cavs would have to play either Orlando, Philadelphia, Boston or Chicago.  Since best-of-seven upsets rarely happen in the NBA, Cleveland will likely face either Orlando or Boston, who both suffered serious injuries to their starting lineup.  Orlando lost point guard, Jameer Nelson, and Boston's emotional leader, Kevin Garnett is still hampered by a nagging knee injury.  Both players are likely out for the post-season.  Cleveland's road to the Finals is not predetermined, but it looks pretty good.  Coach Mike Brown will not let this team overlook any opponent.  Nor will LeBron.
If they end up facing Los Angeles, who swept the season series from Cleveland, wrestling a title away from Kobe Bryant will be no easy task as he is also out to prove he can win a ring without Shaquille O'Neal.  The Lakers are stacked with an all-star lineup of Lamar Odom, Pau Gasol and Andrew Bynum who all present mismatches for Cleveland.
Ultimately, the NBA measures a player and his legacy by championships won.  Dwayne Wade has one already.  Kobe has three.  So now do Garnett, Paul Pierce and Ray Allen.  It is now time for LeBron to take his rightful place among the game's elite.  He finally has the team to do so.  A city desperate for a championship awaits.